Hi, my name is Lady, affectionately called Lady Bug.   I don't think I look like a ladybug, but that's my nickname.   I'm a rescue long-haired dachshund almost 8 years old.   I've been with my family since I was 6 months old.  
Habits, ahh well pulling toilet paper off the toilet roll out of the bathroom and down the hall.  Without tearing it!  Quite a feat, but I'm good at it.   It gets a lot of laughs. Eating paper products, like tissue or paper towels.  That doesn't get any laughs.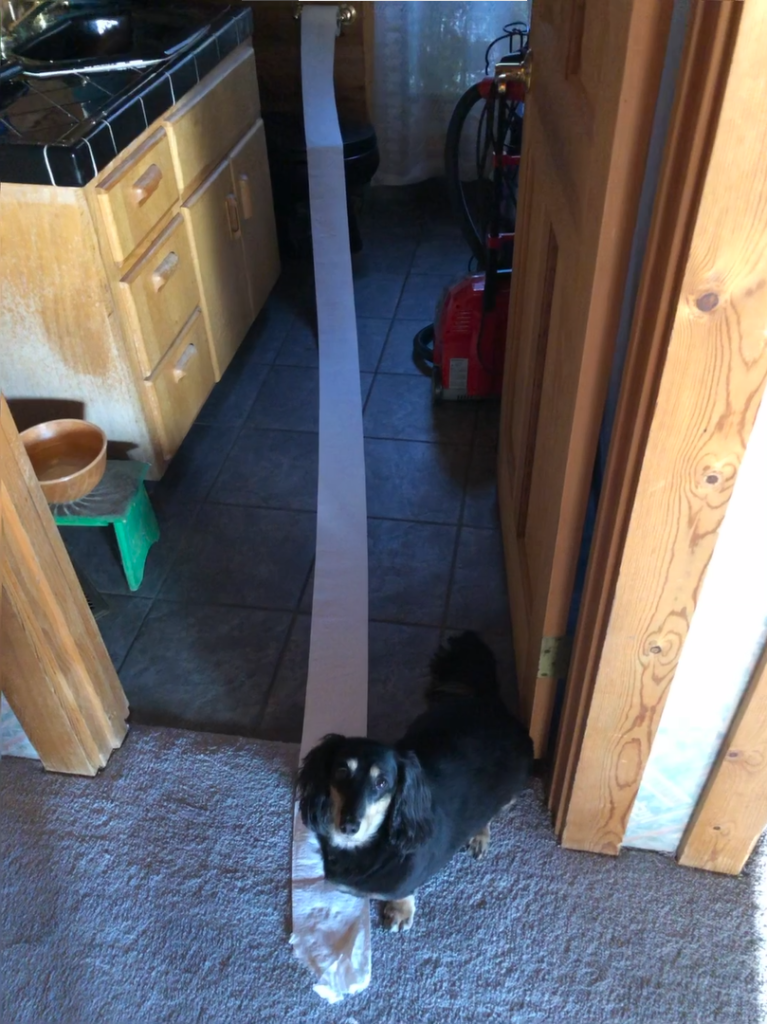 The really GOOD habits?  Being snuggly, cute, chasing my beloved ball.   I like to hide it under blankets, doggy beds, in a box, or bed covers, and then pretend I can't find it. I'm not afraid to verbally expressing myself.   "I'm hungry.  I want back in the house."  Time to play ball.  Where's my ball? " I'll bark until mom or dad finds it and return to me, after all, it's mine.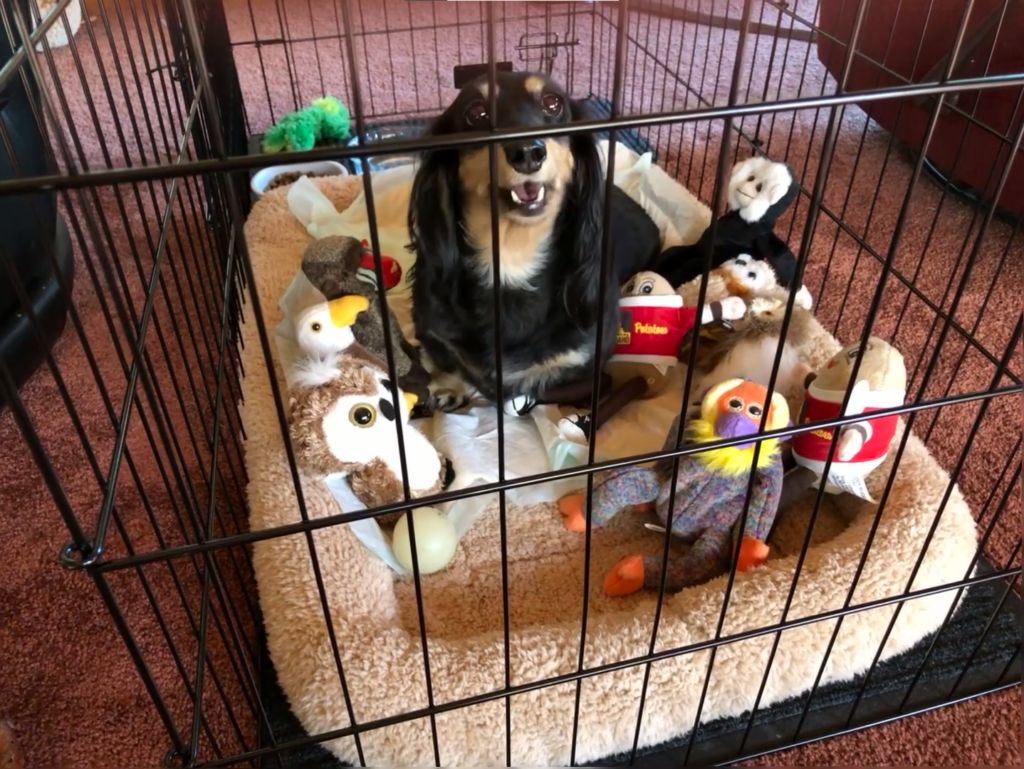 There was a time things got a little rough.  In early September of 2019, an employee at Wild & Ricey, who checked on us 2 times a day while the folks were gone, found me on the outside deck paralyzed from mid-section back.  My folks were on vacation, so it was 3-4 days before they came to the veterinary hospital to check on my status.  It wasn't good. The front end worked, but nothing worked in the back end.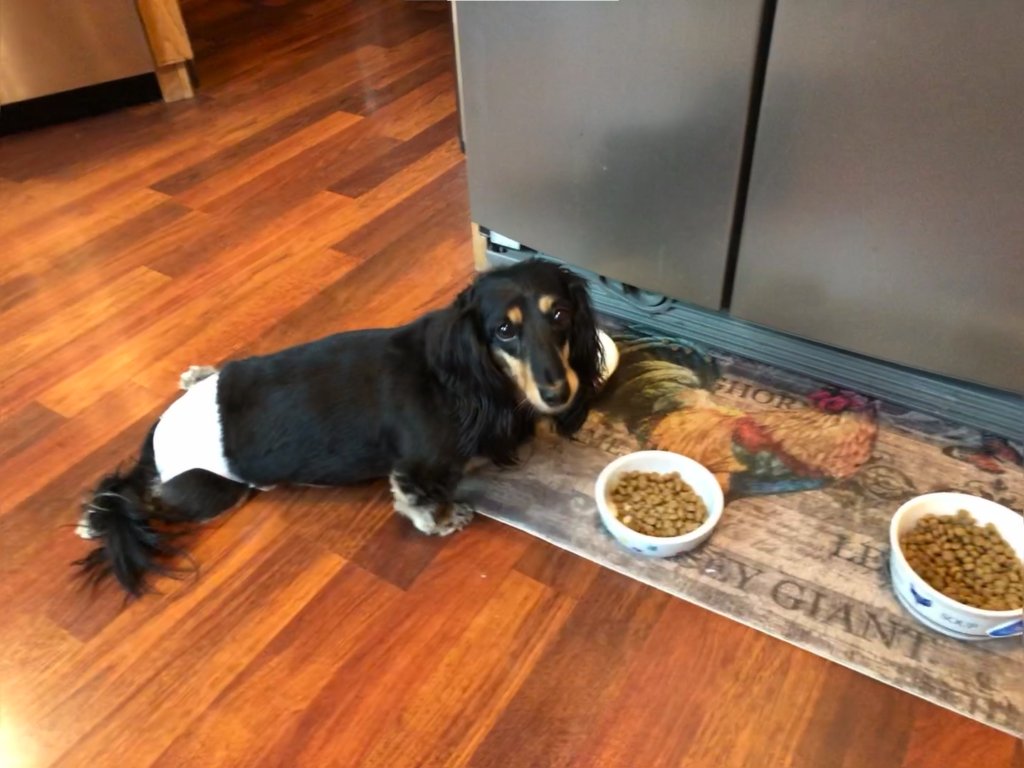 Determined to do everything possible they brought me home in a diaper. Mom changed my diapers during the day and often, during the night. She worked my legs, massaged the muscles, and used trigger points in the feet to stimulate the nerve.  It was irritating, but my legs reacted to the stimulation. I also got acupuncture.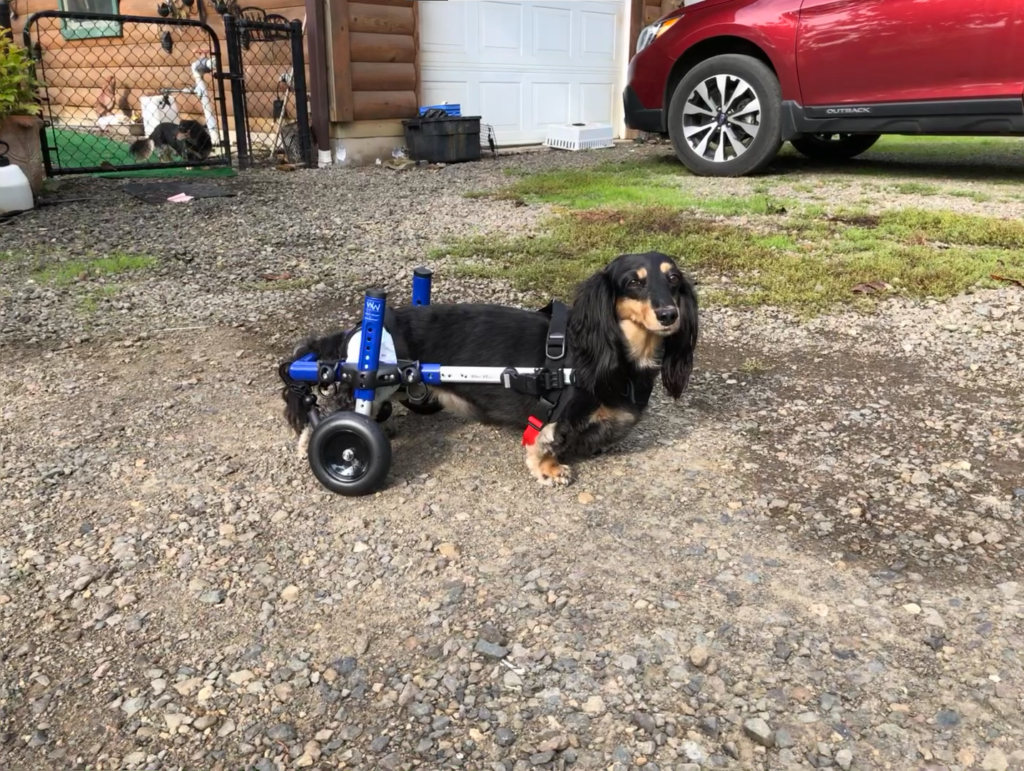 On Oct 3rd 2019 I had my very own wheelchair.  I could chase my ball, go down the hill, but had to be carried back up the hill. Sometimes the wheels got caught on stuff.  Very inconvenient. Once I was so intense on getting my ball,  the wheelchair and I flew off of two steps into the dining room. I wasn't hurt, but it sure brought my parents out of their chairs. I continued to use my wheelchair while trying to get my back legs to move.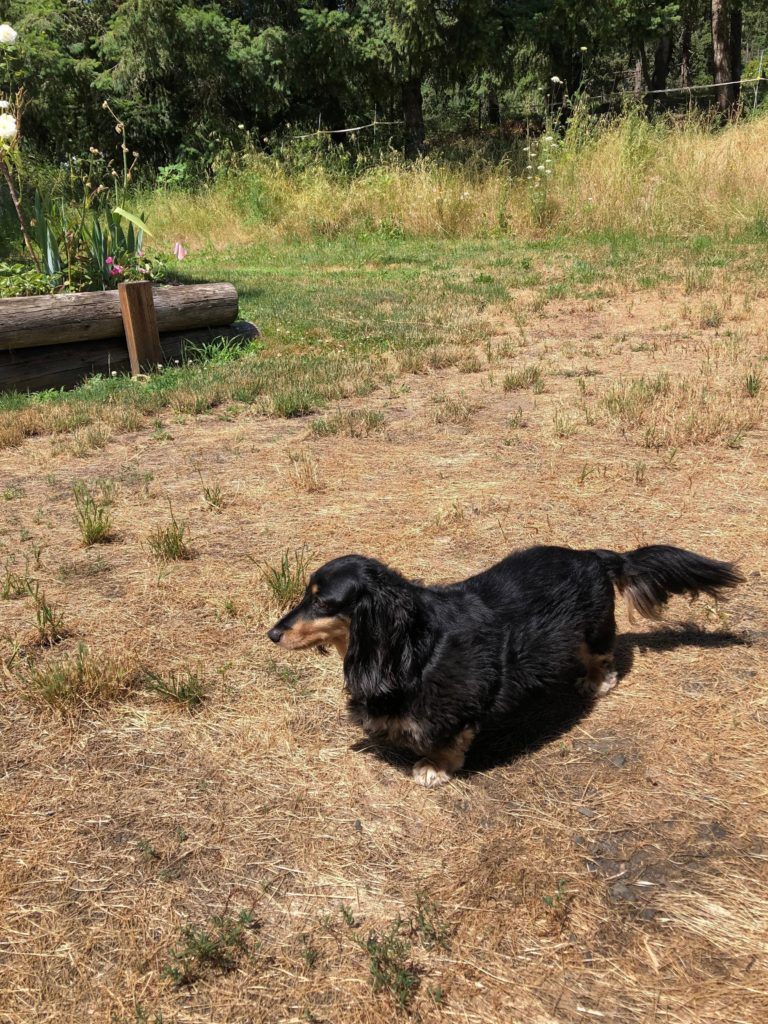 In late October my legs were still not very functional, but my tail was.   A big, big wag forward.  Surprising everyone I was, sort of, walking on my own in November.  Very shaky and my back legs would give out, but we didn't give up.  It took about 4 months to gain muscle, balance, walking and running skills.  I get more exercise than my doxie buddies as I'm chasing my ball and they only chase squirrels.
*note from mom:  with lots of love, working together, and her great heart and cheerful disposition Lady is just like any other doxie.   It just goes to show you, YOU CAN'T KEEP A GOOD LADY DOWN.